St Margaret's Old Girls' Society

Welcome to the SMOGS website for Old Girls and Staff of St Margaret's School, Folkestone, Kent. The School existed from 1890 to 1967. Amazingly, several hundred of its pupils and staff keep in touch, and many of them meet regularly through SMOGS. We supply directories of names and updates, and organise annual reunions. The book on the history of the School, now sold out, is published on this website.

Click on the topics listed for more information.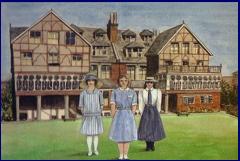 WHAT YOU WILL FIND ON THIS WEBSITE


The Society

: How SMOGS was formed, who runs it and their contact details.
Notice Board: Recent news and announcements about new things to look at on this website.
Reunions: Class reunions around the world, links to previous and future SMOGS reunions, photos and videos.
Directory: How we maintain and update our list of Old Girls and Staff, how to get it.
Biographies: Information about Girls' careers, families and interests, a link to a page of photographs comparing Girls while at
school with how they look now or in recent years.

Items of interest

: Unclassifiable snippets about SMOGS and its people, a link to a page where you can advertise your business,
your books etc.
History: Links to the book Caroline wrote about the School, and how it was written and reviewed, photographs of the school
buildings, then and now, about the Hassons, class lists (by GCE O-level year), lots of photos of Girls and Staff, Caroline's
diaries of life at school.
Pantomimes: Brief reports and photos on each panto, a list of the scripts we hold in our archives, memoirs and audio clips of
some of the songs, a link to another page of chorus line and ballet photos.
Odds and ends: Miscellaneous bits of information and photos mostly taken from the School magazines, a link to the School Hymn
where you read about its origins and its predecessor, and can sing along to the piano accompaniment.
Sport: About tennis and swimming, with a link to a separate page about cricket.
The Arts: Links to pages about drama, music, ballet and drawing.


GDPR (Data Protection Act 2018)
SMOGS aims to be compliant with GDPR and uses your personal data for the purposes for which our members supplied it: to keep in touch with their school friends. If you have any concerns, please contact the Organiser on carolinejthomas@yahoo.co.uk